Tips For Dealing With Confrontational Co-Workers
Sep 14, 2023
Blog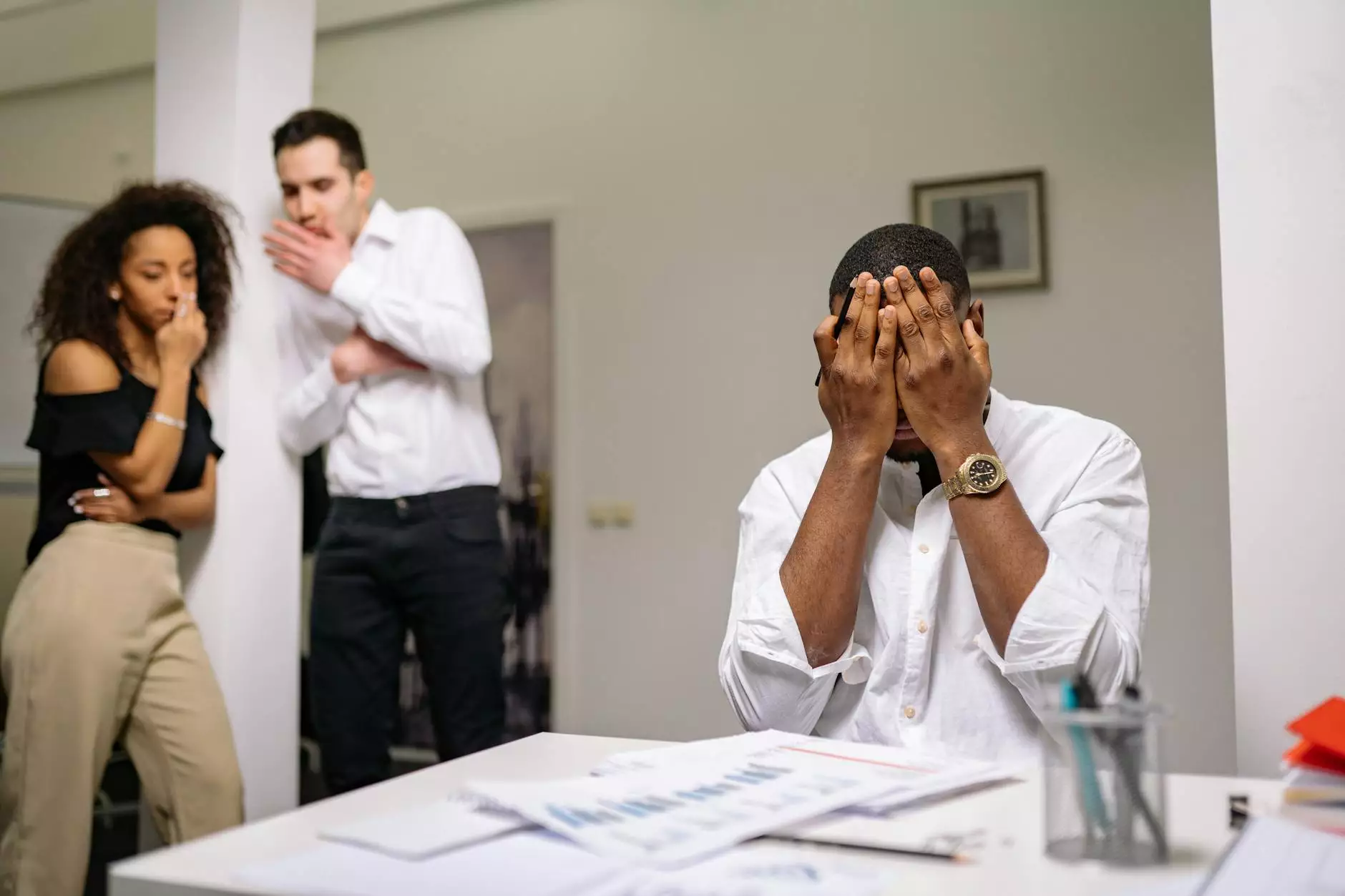 Introduction
Welcome to Stepping Stones Ranch, your trusted source for community and society-related advice and support. In this article, we will provide you with valuable tips and strategies to effectively deal with confrontational co-workers. Our team of experts at Stepping Stones Ranch understands the challenges faced by individuals in the workplace and aims to empower you with the knowledge to overcome these obstacles.
Understanding Confrontational Behavior
Before diving into effective techniques for dealing with confrontational co-workers, it's important to have a clear understanding of what constitutes confrontational behavior. Confrontational behavior in the workplace can manifest in various ways, such as aggressive communication, frequent conflicts, and an overall negative attitude towards colleagues.
Common Types of Confrontational Co-Workers
Identifying the different types of confrontational co-workers can help you develop strategies to better manage conflicts. Some common types include:
The Aggressor: This type of co-worker tends to be hostile and openly confrontational, often using intimidation tactics to get their way.
The Passive-Aggressive: These individuals may avoid direct confrontation but express their dissatisfaction through subtle sarcasm, backhanded compliments, or sabotage.
The Manipulator: Manipulative co-workers use cunning tactics to manipulate situations and people, often playing mind games to gain an advantage.
The Chronic Complainer: These individuals constantly complain, creating a negative atmosphere that can be draining for others.
Strategies for Dealing with Confrontational Co-Workers
1. Stay Calm and Professional
When faced with confrontational behavior, it's crucial to remain calm and composed. Maintain a professional demeanor and avoid getting drawn into emotional arguments. Responding with composure can help diffuse tense situations and prevent matters from escalating further.
2. Communication is Key
Open and honest communication is vital when dealing with confrontational co-workers. Take the initiative to address concerns directly, expressing your feelings in a respectful manner. Active listening is equally important, as it shows your willingness to understand the other person's perspective, even if you don't agree.
3. Set Boundaries
Establishing clear boundaries is essential to protect yourself from confrontational behavior. Clearly communicate your expectations and assertively express the consequences if those boundaries are crossed. By setting boundaries, you create a framework that promotes mutual respect in the workplace.
4. Seek Mediation
If direct communication fails to resolve the issue, consider involving a neutral third party, such as a supervisor or HR representative, for mediation. Mediators can help facilitate constructive dialogues and facilitate a resolution that satisfies all parties involved.
5. Focus on Solutions
When dealing with confrontational behavior, it's important to shift the focus towards finding solutions rather than dwelling on the problem. Collaboratively brainstorming and working towards mutually beneficial outcomes fosters a positive work environment and minimizes unnecessary conflicts.
6. Practice Self-Care
Dealing with confrontational co-workers can be emotionally draining, so it's crucial to prioritize self-care. Engage in activities that help you relax and rejuvenate outside of work, such as exercise, hobbies, and spending time with loved ones. Taking care of your well-being equips you with the resilience to handle challenging situations more effectively.
Conclusion
Navigating confrontational co-workers can be a challenging aspect of the workplace, but with the right strategies, it is possible to handle these situations effectively. At Stepping Stones Ranch, we believe that fostering a positive work environment is crucial for personal and professional growth. Implementing the tips and techniques discussed in this article can empower you to maintain your composure and build healthier relationships with your co-workers. Remember, positive and respectful communication goes a long way in creating a harmonious workplace environment.